Navigation:
Sort by:
View Artwork:
Ricotta Salata Vecchio
oil on wood, 12x12"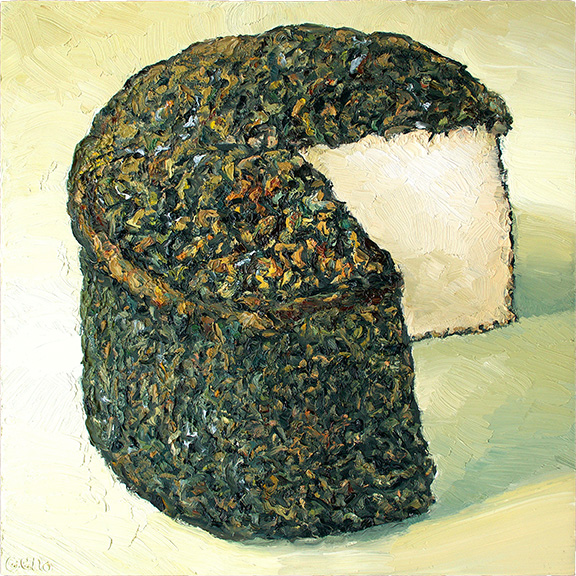 Caputo Brothers Creamery, in Spring Grove Pennsylvania sent me an unexpected gift, this beautiful wheel of cows milk cheese but with very little information about it. The words 'Ricotta" means re-cooked, 'Salata' means salted and 'Vecchio' means old, aged. It was, however, plain to see this magnificent model for me to paint is a pressed ricotta wheel, which normally is custard-like soft. This extra aged wheel (6-8 weeks) is firm and with less salt than regular salata, which they say helps "create a higher moister cheese and promotes a rind to develop resulting in a nice and flavorful table cheese." That's an understatement; its really wonderful.

There were cartoon hearts in my eyes when I first unwrapped this model in my studio. The complex textural rind reminds me of that marbled pattern of school composition notebooks, but with tiny bursts of color surfacing here and there. Translating that magical rind in paint was my humble goal, which I don't believe is a fair situation for any artist to be in.
Country of Origin: USA, Pennsylvania
Price: $800
Detail View: