Navigation:
Sort by:
View Artwork:
St. Albans
Oil on wood, 16x20"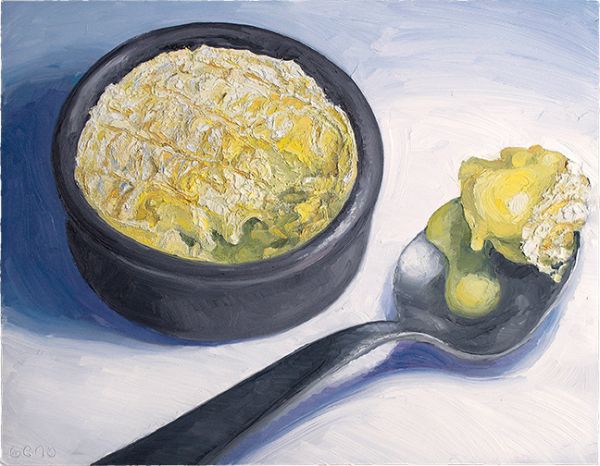 Vermont Creamery has created an American answer to the hard-to-get, or more like impossible-to-get, St. Marcellin, a French classic. Similarly, this delicious and delicate soft wheel comes in its own ceramic crock and is named after the town of St. Albans where the high-quality cows' milk comes from. This is Vermont Creamery's first 100% cows milk cheese yet it's no surprise this is as creamy and indulgently spreadable as any of their incredible goat cheeses they're famous for.

I knew from the first time I had a taste of this, at a preview exhibit earlier in the year, that I would need to paint it. How incredibly lucky am I not only to receive a gift of these but to paint a new American cheese the very month it is first released to the public! Also, it goes without saying, cheese lovers will more often validate their impulse grab of this more often when one factord in getting another handy crock for your kitchen collection! I love them almost as much as the cheese.

This painting, of a rather small intimate subject, became one of my larger cheese portraits because it seemed undeniable that a spoon had to enter the narrative when a good cheese friend interpreted her impression of this new classic.


Country of Origin: USA, Vermont
Price: $1500
Detail View: