Navigation:
Sort by:
View Artwork:
Shepsog
oil on wood, 10 x 10"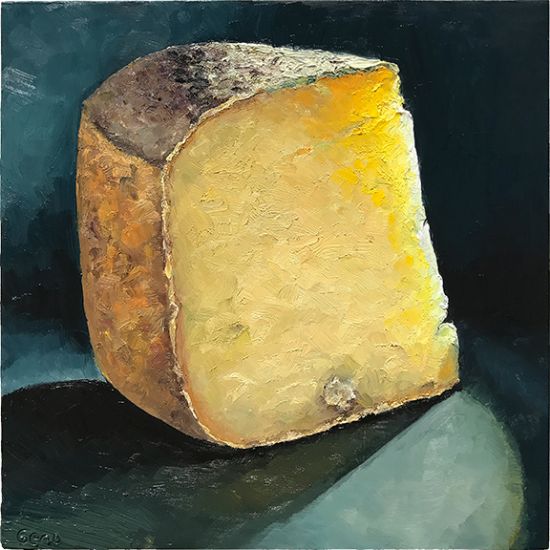 The wonderful folks at Grafton Village Cheese, in Vermont sent me a care package of their incredible cheeses!
The award winning. cave-aged "Shepsog" is a mixed sheep and cow's milk beauty. I decided to reface it some so I trimmed a bit off to freshen up the surface. Well, let me tell you, not a crumb went to waste! This cheese is an incredible savory sweet and grassy - earthy delight! Somehow I always forget what a treat sheep/cow milk cheeses are and great cheeses like this remind me!

I couldn't decide if there was a vantage point I liked better, so I decided that to best showcase the rind and the paste alike I'd use a new mini spotlight I got for the studio. It added a slightly different cold toned drama to the staging . The LED bulb also caused some glowing colored edge along the edge of the spotlight while my normal floodlight illuminated the rest. I really enjoyed painting this delicious mode.

According to the Grafton site: "Shepsog means 'sheep' in the indigenous Native American Algonquin language.
Country of Origin: USA, Vermont
Availability: sold
Items Available for Purchase:
Detail View: