Navigation:
Sort by:
View Artwork:
Little Mountain
oil on wood, 10x10"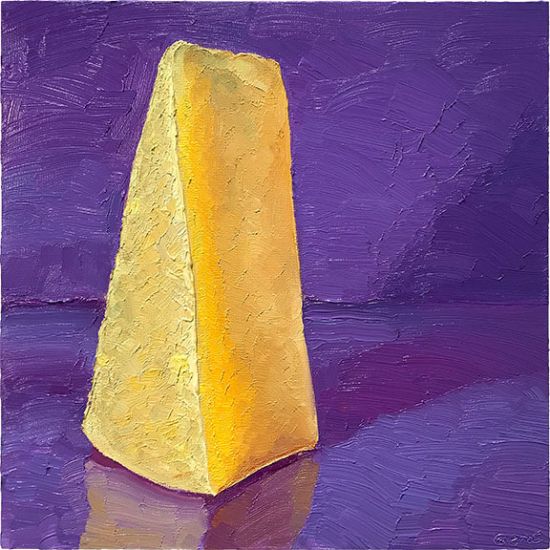 This is the 2016 Best in Show winner 1st place champion from the American Cheese Society annual conference and competition. This is the highest ranked cheese in North America above more than 18 hundred entries!

My luck of having the commission of all the Best in Show winners each year, means I get to have the best cheeses sent to me for it. This one is indeed scarce from it's enormous demand and long period of aging, so they could only spare this thin wedge which is packed with flavor and nuance. I decided to paint it inside the first place blue-violet ribbon color and standing defiantly as the little guy that won :) (maybe also a Prince tribute?)

This alpine style cows milk cheese is Chris Roelli's newest cheese and his homage to his family's Swiss roots. Little Mountain is based on Appenzeller and made in 15 lb wheels which are washed with a proprietary blend of bacteria and brine. It's generally aged between 8 and 14 months. The winning wheel was aged 9 months. I am extremely happy to see this humble, hard working small family cheese operation take the top prize in American cheese. Roelli also makes two other incredible cheese subjects that Ive enjoyed painting : Red Rock and Dumbarton Blue.


Country of Origin: USA, Wisconsin
Availability: sold
Items Available for Purchase: